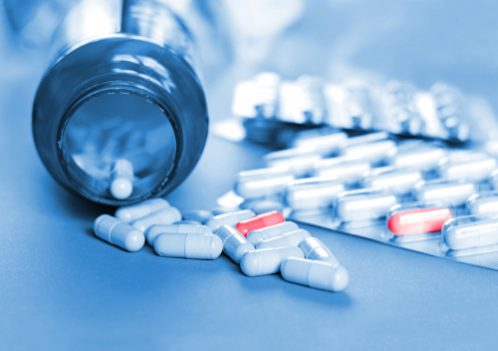 President Joe Biden and his administration announced on Tuesday the 10 prescription drugs that will be subject to price negotiations with the U.S. Medicare system. In a nod to his 2024 reelection message, Biden highlighted the importance of tackling "Big Pharma."
According to the Washington Post, the Medicare Drug Price Negotiation Program is a result of the Inflation Reduction Act, one of Biden's key legislative victories. The list includes the blood thinner Eliquis from Bristol Myers Squibb and Pfizer, as well as diabetes drugs Januvia and Jardiance.
"The medications are 'among the most common and costly prescriptions that treat everything from heart failure, blood clots, diabetes, arthritis, Crohn's disease—and more," Biden said in a statement. "There is no reason why Americans should be forced to pay more than any developed nation for life-saving prescriptions just to pad Big Pharma's pockets."
The 10 medicines for price negotiation were chosen from a list of the 50 products with the highest spending in Medicare's prescription drug program, Part D. They accounted for 20% of Part D prescription costs between June 1, 2022 and May 31, 2023, according to the Health and Human Services Department. Some of the highest-cost Medicare drugs were not eligible for negotiation, either because they still have market exclusivity, they're the only option for a rare disease, or for other reasons.
Medicare enrollees taking the 10 drugs selected for negotiation paid a total of $3.4 billion in out-of-pocket costs for the medications in 2022. Prices are expected to go into effect in 2026 under the Inflation Reduction Act. The negotiated prices could free up Medicare's budget to cover diabetes or obesity drugs.
Pharmaceutical Research and Manufacturers of America (PhRMA) President Stephen J. Ubl released a statement saying, "Giving a single government agency the power to arbitrarily set the price of medicines with little accountability, oversight or input from patients and their doctors will have significant negative consequences long after this administration is gone. The cancer moonshot will not succeed if this administration continues to dismantle the innovation rocket we need to get there."
Industry giant Bristol Myers Squibb CEO Giovanni Caforio also commented, stating "there is no requirement in the law that insurance companies that administer Medicare benefits will actually continue to make these medicines available to patients without hurdles or burdensome cost sharing. "
Related: US Big Pharma Must Face Dermatology Antitrust Case
However, CMS Director Dr. Meena Seshamani emphasized, "Medicare plans to use a review process to make sure insurance companies keep clinically appropriate access to negotiated drugs."
Rep. Frank Pallone Jr., chairman of the House Energy and Commerce Committee, stated, "Tuesday's announcement marks the end of a 20-year handout from Republicans in Congress to the pharmaceutical industry." Nancy LeaMond, executive vice president and chief advocacy and engagement officer at AARP, praised the administration's move, saying, "We can't allow seniors to be Big Pharma's cash machine anymore."
The Biden administration is also taking other actions to lower drug costs, such as studying new models for Medicare and Medicaid beneficiaries and proposing a rule to negotiate payment for expensive drugs covered by Medicaid. The Federal Trade Commission has taken a more aggressive approach to pharmaceutical mergers to address concerns about price increases.
The impact of the Medicare drug price provision may have a minimal effect on some drugs, including Eliquis, which is set to lose patent protection around 2028. Drugmakers and allied groups have already filed eight lawsuits against the Medicare drug negotiation process, and more lawsuits could follow Tuesday's announcement. President Biden and his health officials committed this morning to fighting industry lawsuits.
The Medicare Drug Price Negotiation Program is set to become the centerpiece of the Bidenomics vision of building the economy from the middle out and bottom up. Negotiated prices for these drugs are set to become available in early 2026 and could be a significant victory for the Biden administration in its fight against "Big Pharma" and its effects on the U.S. health-care system.
Source: Washington Post