EU: Vestager says collective bargaining in gig economy would not be cartel-like behavior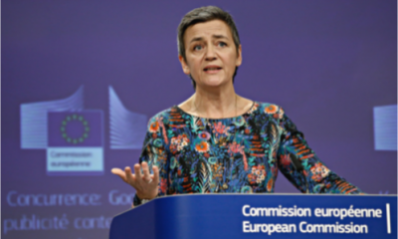 The EU's competition chief, Margrethe Vestager has called for Gig-economy workers to be allowed to collectively bargain for their rights, reported the Financial Times.
Vetsager spoke as workers for platforms such as Uber, the ride-hailing app, and Deliveroo, the food delivery app, are increasingly demanding union recognition and greater worker rights in the EU and the US.
The EU's competition rules prevent the self-employed from collectively setting a price for their services, which would constitute a cartel. But Ms Vestager said it was important to find a way of supporting gig economy workers to win new rights.
"We need to make sure that there is nothing in the competition rules to stop those platform workers from forming a union, to negotiate proper wages as you would do in any other business," Ms Vestager said.
Ms Vestager added: "Platform workers should be able to team up, to defend their rights." She said: "The fact that their employers label those workers as "self-employed" doesn't make those collective agreements into cartels, when that label is just a way to disguise that they are really employees."
According to the FT Ms Vestager did not explicitly say competition rules should change, but antitrust lawyers said it may be possible for the EU to introduce exemptions for those working in the gig economy.
Full Content: Financial Times
Want more news? Subscribe to CPI's free daily newsletter for more headlines and updates on antitrust developments around the world.