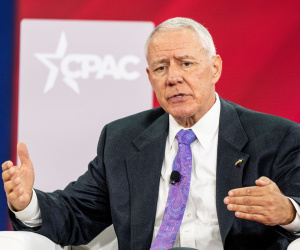 On Wednesday, Representative Ken Buck (R-Colo.) revealed that he would not be seeking reelection in the upcoming year. Buck expressed his profound disappointment with the ongoing promotion of the controversial claim that the 2020 presidential election was stolen, commonly referred to as the "big lie," within the Republican Party.
"I have decided that it is time for me to do some other things," Buck disclosed during an interview with MSNBC's Andrea Mitchell. "I have always been disappointed with our inability in Congress to address major issues, and I'm also disappointed that the Republican Party continues to rely on this lie that the 2020 election was stolen."
Buck's announcement came just hours after another Republican colleague, Representative Kay Granger (R-Tex.), declared that she would not seek reelection in the upcoming year as well. Both Buck and Granger had been among the approximately two dozen Republicans who opposed Representative Jim Jordan (R-Ohio) for the speakership last month. Their decision drew criticism from hard-right factions of the Republican base. Their steadfast opposition ultimately compelled Jordan to withdraw from the race, with Buck and Granger subsequently lending their support to House Speaker Mike Johnson (R-La.) for the leadership position.
Buck's decision to step away from Congress after this term marks a significant development within the Republican Party, as it highlights the ongoing divisions over the legitimacy of the 2020 presidential election and its impact on the party's leadership and direction.
Source: Washington Post