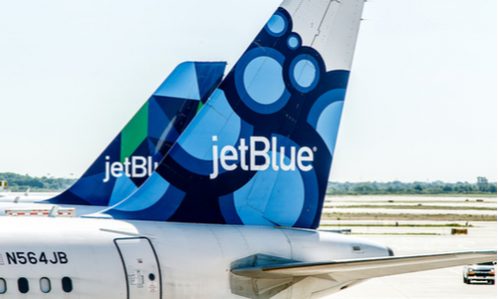 In light of the diminishing options for air travelers in the wake of numerous mergers in the US airline industry over the past few decades, the Justice Department has decided to intervene for the first time, taking the matter to court.
A trial is scheduled to commence in the US District Court in Boston, with its primary focus on JetBlue Airways' proposed acquisition of rival Spirit Airlines for a sum of $6.8 billion. This marks the inaugural instance of regulators resorting to legal action to prevent a merger between two US carriers, amidst the domination of the domestic market by four major players, reported Washington Post.
The Justice Department has previously contested airline mergers, notably in 2013 when it challenged the union of American Airlines and US Airways, resulting in the formation of the world's largest airline.
Nevertheless, these cases were resolved through settlements before reaching a trial. While JetBlue has made concessions in an attempt to gain regulatory approval, the Justice Department argues in court filings that these concessions are inadequate.
Read more: JetBlue & Spirit Airlines Antitrust Trial Date Set For October
As a result, they are actively seeking to thwart the proposal, which would result in the creation of the fifth-largest domestic airline. This initiative aligns with the broader trend of the Biden administration imposing stricter enforcement of the nation's antitrust laws.
William J. McGee, a consumer advocate and senior fellow for aviation and travel at the American Economic Liberties Project, remarked, "This is a different DOJ. In my lifetime, in this industry, we have never seen the DOJ be so aggressive on the airline front."
JetBlue's $6.8 billion bid for Spirit Airlines would mark the first airline merger in the United States in seven years. This development comes against the backdrop of the Justice Department's recent challenges to proposed mergers in various industries, including technology, healthcare, and publishing.
Notably, the Justice Department is actively engaged in an ongoing lawsuit against Google, marking the first antitrust case filed against a tech company in over two decades. This case is currently underway in a federal courtroom in Washington.
Source: Washington Post