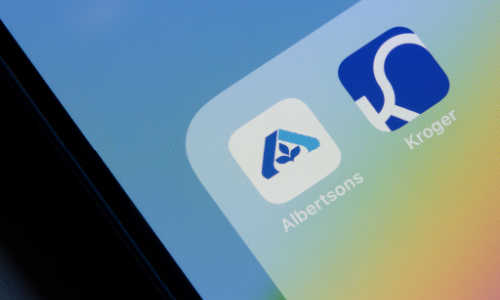 In an unsurprising yet monumental ruling, the US District Court for the Northern District of California ruled that Kroger and Albertsons will be allowed to proceed with the grocers' $24.6 billion dollar merger, after a bid from consumers for a preliminary injunction to halt the merger was dismissed.
According to Bloomberg, the ruling was issued by Judge Vince Chhabria and it outlined the consumers' inability to provide sufficient personal information on how the merger would affect them.
During the lawsuit, filed in February by a group of consumers, it was claimed that the deal would create a monopoly between two of the largest US supermarkets. Joe Alioto, attorney for the plaintiffs, stated in an interview, "The merger would result in higher food prices and thousands of layoffs between the two grocers' networks."
Read more: US Unions Talk Out Against The Albertsons-Kroger Merger
However, Judge Chhabria stated that the plaintiffs had 'not come close to providing the information necessary to determine whether concern [about the merger] is truly warranted'. He also granted Kroger and Albertsons' motion to dismiss the complaint with leave to amend. This was in relation to a lawsuit by consumersw which was also targeted the Cerberus Capital Management LP, an Albertsons investor receiving more than a third of a related $4 billion 'special dividend', the deal's most contentious provision.
In a statement, Judge Chhabria said, 'The merger may be concerning from an antitrust perspective, however, the court is not in a position to make a decision on whether the merger should go ahead or be blocked; that is something that must be determined elsewhere.'
Although the outcome may seem disheartening for the consumers seeking to enforce the injunction, Judge Chhabria's ruling bookmarks a momentous occasion. It is the first step in determining the outcomes of mergers, acquisitions, and joint ventures between two of the US's largest supermarkets, and sets a precedent to future legal challenges faced against similar multinational deals.
Source: News Bloomberg Law