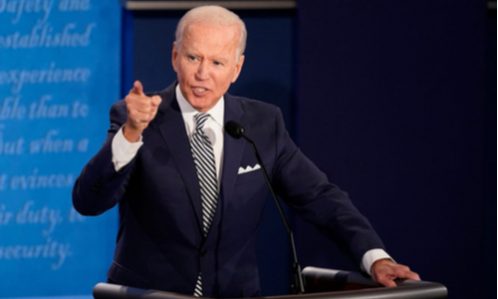 President Joe Biden made history Monday with the announcement that Shuwanza Goff will serve as the White House's Assistant to the President and Director of the Office of Legislative Affairs, becoming the first African-American woman to serve in this role. Goff, a longtime congressional aide with strong relationships on both sides of the aisle, is a proven leader and trusted voice among legislators.
"Since taking office, I have relied on Louisa Terrell's wise counsel and tireless engagement with our nation's legislators, and she has delivered for the American people. I am pleased to announce that Shuwanza Goff, a Day 1 member of my team, will serve as my new Director of Legislative Affairs and help finish the job," stated President Biden.
The Office of Legislative Affairs oversees all legislative duties, working alongside the Vice President and White House Chief of Staff in the formation and implementation of legislative strategies. Previous chief Louisa Terrell, who is leaving the White House this summer, pushed for the Infrastructure Investment and Jobs Act.
With strong working relationships with top-ranking House members, including Speaker Kevin McCarthy and other Republicans, Goff has a successful record in guiding legislative initiatives. She's led negotiation of issues like infrastructure, COVID-19, postal overhaul, gun violence, semiconductors, health care, and two major reconciliation packages.
Related: Biden Stresses the Importance of AI Safeguards
Goff began her career as a staff assistant in Steny H. Hoyer's office in 2008, while she was still a graduate student at American University studying justice, law and society. By 2013, she was serving as Hoyer's floor director — the first Black woman to serve in the role — and corralling the Democratic Caucus around legislative priorities.
In 2019, she assisted in the historic confirmation process of Supreme Court Justice Ketanji Brown Jackson and returned to the private sector with Cornerstone, Google's largest outside lobbying group, as a principal. Google is Cornerstone's biggest client, spending $680,000 annually.
Despite Goff's impressive career path, her appointment has been controversial and has raised questions about her former tech affiliations. Concern has been voiced by antitrust advocates, who believe that her previous and current roles at corporations like Google could be a conflict of interest and a hindrance to antitrust legislation.
"It's concerning to see two successive legislative affairs directors with Big Tech ties. At least Terrell could say she hadn't worked for Facebook since 2013," commented Aiden Buzzetti, President of conservative advocacy group The Bull Moose Project.
GOP Rep. Patrick T. McHenry spoke out, expressing his faith in Goff's ability to serve: "She fights tenaciously for their side, but she also has respect on the Republican side because she knows what she's doing."
Jeff Hauser, founder of the Revolving Door Project, suggested that assigning antitrust legislation to a White House official experienced at working the Hill and at least as senior as Goff would be the best path forward if there is a conflict of interest.
The Biden administration's DOJ is currently prosecuting Google for violating antitrust law, an additional point of contention that will be addressed by the incoming director.
Despite the controversy, the White House is confident that Shuwanza Goff is the right person for the job. President Biden has strong faith in her abilities and experiences to take on this important role, and he looks forward to her success.
Source: NY Post